Auber D19mm Lip Gloss High Glossy Tubes with Metallized Screw on Cap
The high glossy laminated tubes( HGL tubes) are really popular in the recent years. And the their best metal luster are good to help acheive the designers' creative ideas, we have made many beautiful packaging tube cases. Here is one of them. A bronze gradient offset on the HGL looks fashionable. Then we make the silk screen printing of the other content which we can not only see them clearly but also feel them by fingers. 
Product Details
Company Profile High glossy laminated tube Special applicator and metalized cap
This high glossy lamianted tube ( HGL tube) can be used for hand cream, lotion, cream, washing form, personal care products, etc. Clients could custom the HGL tube for lip gloss into the unique colors via full page offset printing. Even with the same printing method, Auber packaging can also make different effects on the High Glossy Tube. This case could show the two effects well at the same time thus it is with gradient color. Check the bronze printing, its color on the top is solid and then gradually when the color come lighter, we can see more metal feeling. Moreover, the client chose a special applicator which is soft and comfortable for lips or eyes. We are looking forward to make your creative ideas for packaging tube into true, talk to Auber!
Round high glossy tube

High Gloss Laminated sheet

Diameter 19 mm

Offset printing+Silk screen printing

Glossy

Silver metallized matte lip balm cap

eye essence, eye gel, eye cream, lip-gloss, lip essence, lip care, personal lubricant, etc.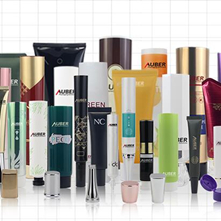 Q

Can you make different colored laminated tubes?

Yes, we can offset print the full page color to make it different.

Q

How many offset colors can Auber print on High Glossy Tubes?

Yes, we can any color per your request.

Q

How to distinguish the difference between the PE tube and lami tubes?

The lami tubes will have a welding line, while PE extruding tubes will not.

Q

What kind of products do you offer?

We produce cosmetic tubes, Airless Pump tube, Aluminum Plastic Laminated Tubes, Plastic Laminated Tubes and High Glossy Laminated Tubes, etc. Tubes can be in Mono-layer, Double-layer and Multi-layers, diameters cover from 13mm to 60mm. Tubes can be in different decoration of offset printing, silkscreen printing, hot stamping, labeling, etc.

Q

Why Auber tubes are with good quality?

Q

What's Auber tube's lead time?

25-30 working days after details/ samples approval sample and deposit.

Q

What is the Auber factory scale?

Our factory is 18800 m2 production area with 150 staff and 7 production lines.

Q

What is Auber factory capacity?

Maximum yearly capacity could reach 300 million cosmetic tubes.

Q

What kind of services will Auber offer?

OEM/ODM packaging, and 2 years long after service.

Q

What kinds of varnish types can you use for skin care tubes?

Yes, FREE stock samples, you will just need pay for the express cost.
Basic Information
Year Established

2004

Business Type

Manufacturing Industry

Country / Region

Guangzhou

Main Industry

Cosmetics Packaging

Main Products

OEM/ ODM packaging tube

Enterprise Legal Person

Jordom Li

Total Employees

101~200 people

Annual Output Value

300+ million tubes yearly

Export Market

European Union,Middle East,Eastern Europe,Latin America,Africa,Oceania,Japan,Southeast Asia,America

Cooperated Customers

--
Company Profile
Auber is an ISO9001 Certified manufacturer since 2004. We are specialized in producing plastic cosmetic tubes & metal cosmetic tubes in wide range: ♦ PE tubes: Mono-layer, Double-layer and Multi-layer(5 layers) Laminated tubes: ABL (Aluminum plastic laminated tubes), PBL (Plastic laminated tubes), HGL (High glossy laminated tubes) ♦ Diameters: from 13mm to 60mm ♦ Different decorations: offset printing, silkscreen printing, hot stamping, labeling, etc ♦ We offer private label and contract packaging services ♦ Our tubes are used in cosmetics, skincare, hair care, pharmaceutical, food, chemicals, medicine, painting, industrial use, etc. We are focusing on quality control by strictly following the ISO9001:2015 standard. We consider loyalty and customer service as the priority on business relationship. The high satisfaction from our customers has helped us explored the markets into North America, Europe, Australia, Japan, Mid-East, etc.
Company Video
Certifications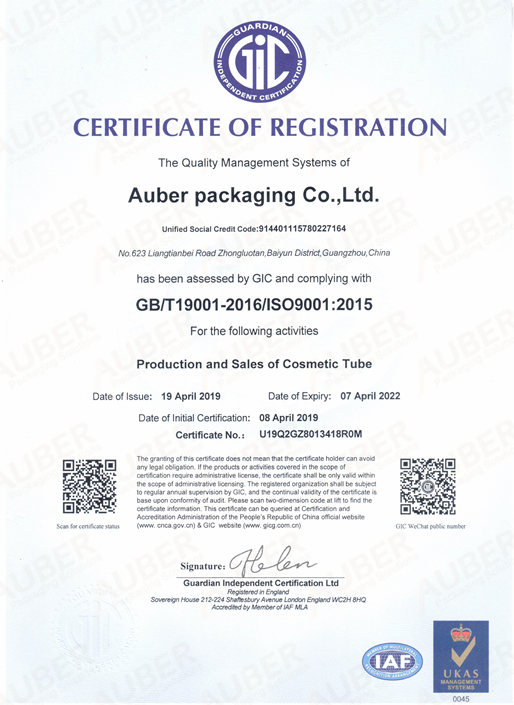 Auber ISO 9001 2015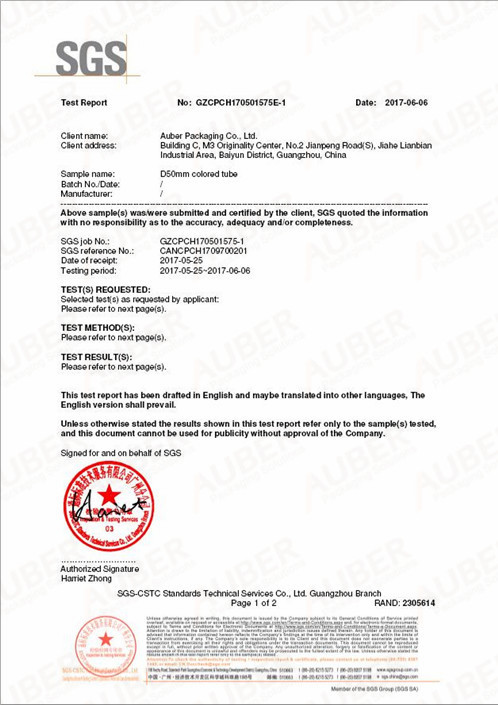 American PCH testing report No. GZCPCH170501575E-1 Ni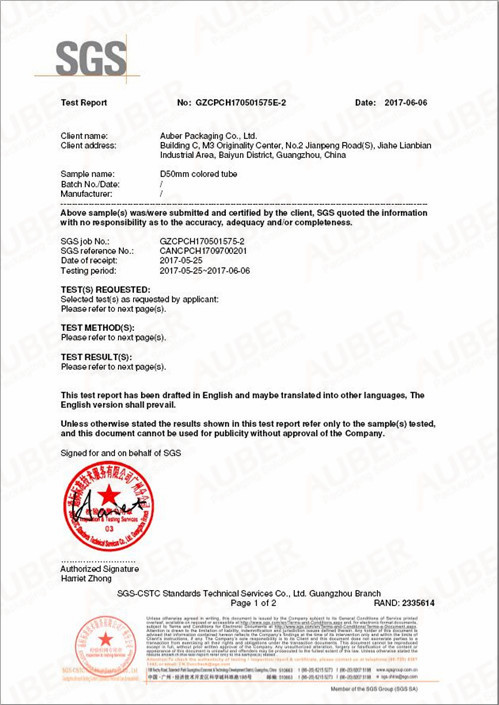 American PCH testing report No. GZCPCH170501575E-2 Hg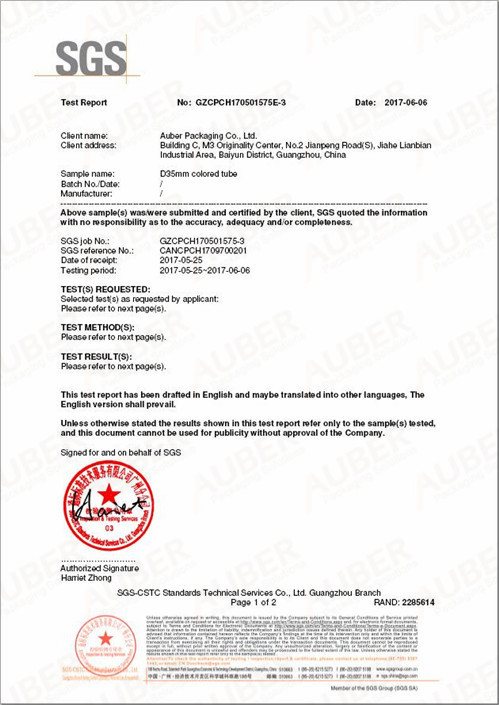 American PCH testing report No. GZCPCH170501575E-3 Cr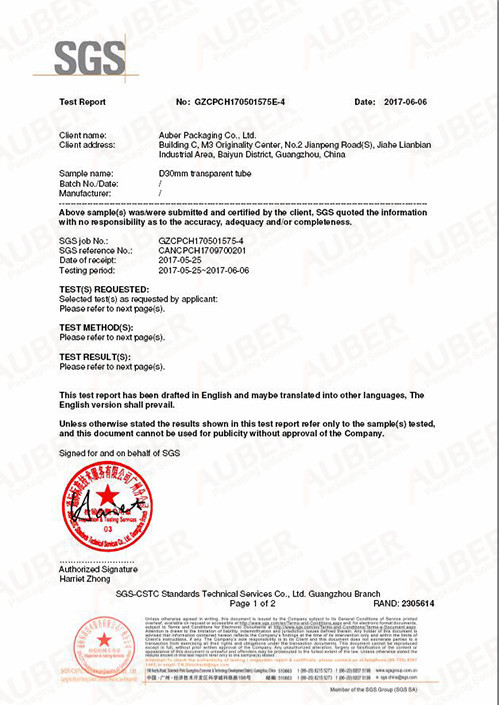 American PCH testing report No. GZCPCH170501575E-4 Pb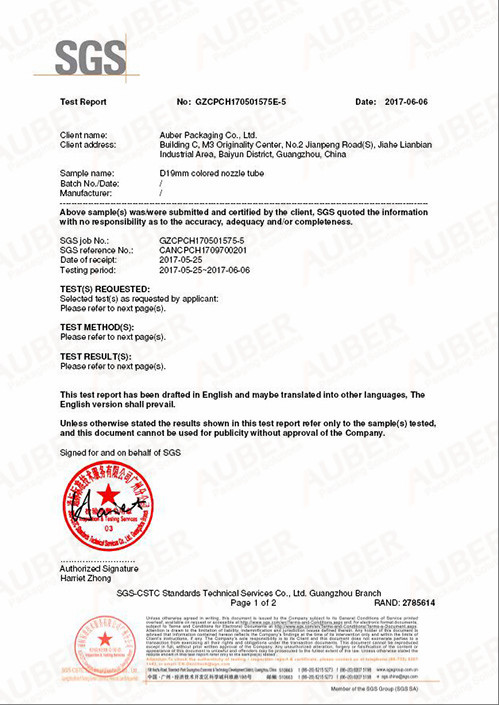 American PCH testing report No. GZCPCH170501575E-5 Bisphenol A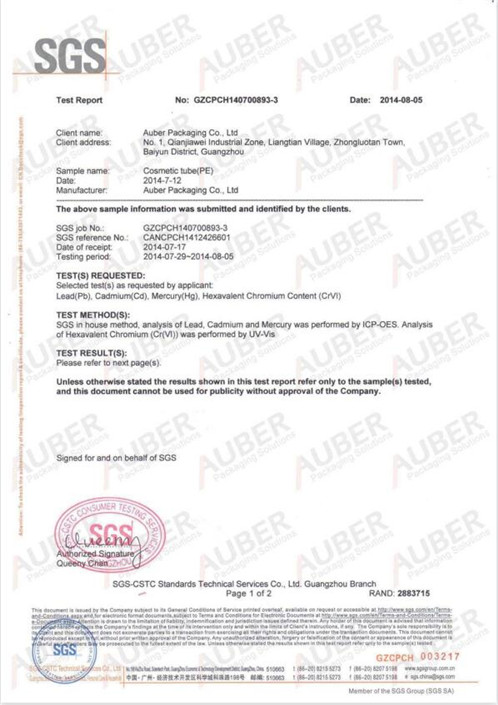 American TPCH testing report No. GZCPCH140700893-3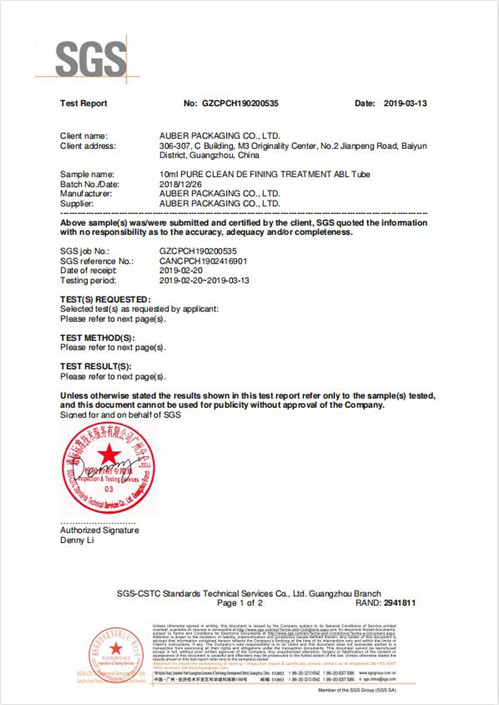 Commission Regulation(EU) No.10-2011 GZCPCH190200535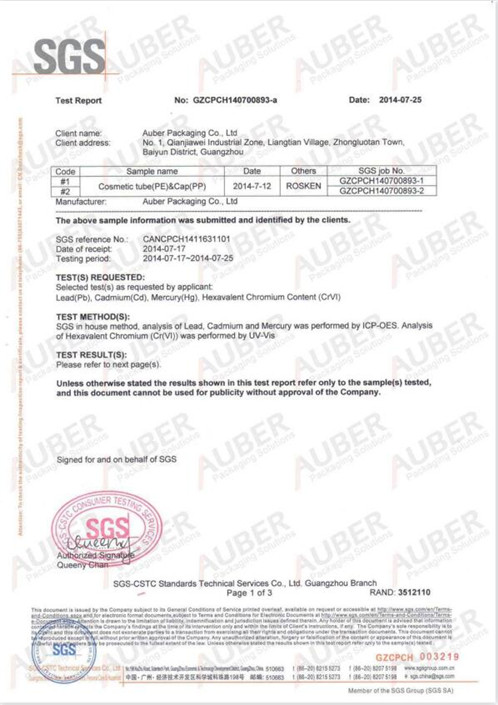 94-62-EC testing report No.GZCPCH140700893-a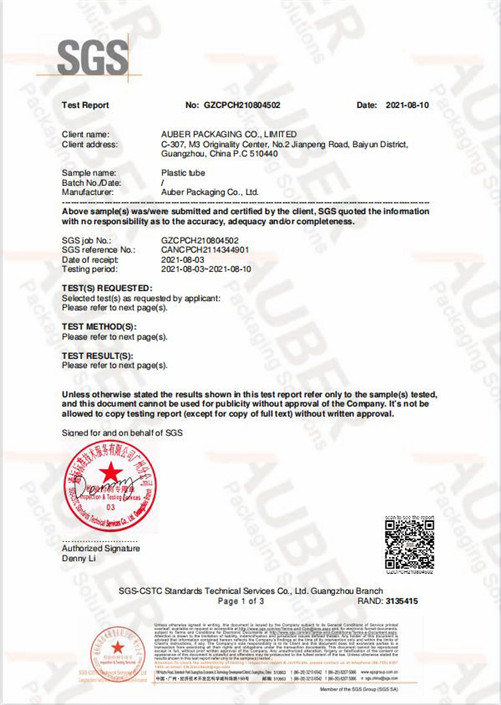 FDA SGS report GZCPCH210804502
Add a comment
Comment
MESSAGE US
Start to customize the cosmetic tube packaging
Copyright © 2021 Auber Packaging Co., Ltd. - All Rights Reserved.
Choose a different language
English
Ελληνικά
Türkçe
ภาษาไทย
svenska
Polski
Nederlands
עִברִית
Magyar
Gaeilgenah
dansk
čeština
русский
Português
한국어
日本語
italiano
français
Español
Deutsch
العربية
Українська
Bahasa Melayu
Lëtzebuergesch
Қазақ Тілі
Беларуская
Current language:English