Auber D22mm Primer Customized Nozzle Tubes With Black Screw On Cap
For the Nozzle Tubes, we can make them in different materials, PE, green PE, PCR, and ABL ect. When people are thinking about making the PE tubes, they may think about using 5 layers PE tubes in order to acheive the better barrier ability. For example, the 5 layers nozzle tubes for primer. Auber can provide D16mm, D19mm, D22mm, D25mm nozzle tubes in the custom colors and tube shapes. 
Product Details
Company Profile
Product Introduction
The cosmetic packaging includes many different types, here will be the tube packaging with the functional heads. The nozzle head is fit for the thin liquid, and the lip balm head is good for lip gloss, brush tube is good for the nail beauty products, and of course we can use them for many different usages per your demands. Moreover, we can also cutom the tube color, tube shapes, and the caps to match with your designs. Just share your ideas with Auber if you want to custom the tube packaging.
Product Information Style:
Round White Nozzle Tube
Usage:
eye gel, ointment, essence, personal lubricant, eyelash glue, concealer, etc. 100% Quality Assured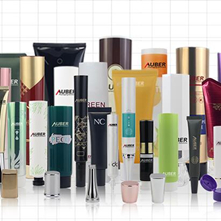 Various Tubes Customization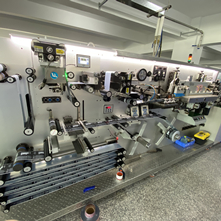 1
Can you make nozzle tubes in oval shape?
Yes.
2
Can you make different colored oval tubes?
Yes.
3
How many offset colors can Auber print on nozzle tubes?
8.
4
Why Auber tubes are with good quality?
100% Quality Assured
5
What applications will the people use tube packaging for?
Skin Care, Makeups, Hair Care, Toothpaste, Personal Care, Ointment, Food, Industrial,etc.
Basic Information
Year Established

2004

Business Type

Manufacturing Industry

Country / Region

Guangzhou

Main Industry

Cosmetics Packaging

Main Products

OEM/ ODM packaging tube

Enterprise Legal Person

Jordom Li

Total Employees

101~200 people

Annual Output Value

300+ million tubes yearly

Export Market

European Union,Middle East,Eastern Europe,Latin America,Africa,Oceania,Japan,Southeast Asia,America

Cooperated Customers

--
Company Profile
Auber is an ISO9001 Certified manufacturer since 2004. We are specialized in producing plastic cosmetic tubes & metal cosmetic tubes in wide range: ♦ PE tubes: Mono-layer, Double-layer and Multi-layer(5 layers) Laminated tubes: ABL (Aluminum plastic laminated tubes), PBL (Plastic laminated tubes), HGL (High glossy laminated tubes) ♦ Diameters: from 13mm to 60mm ♦ Different decorations: offset printing, silkscreen printing, hot stamping, labeling, etc ♦ We offer private label and contract packaging services ♦ Our tubes are used in cosmetics, skincare, hair care, pharmaceutical, food, chemicals, medicine, painting, industrial use, etc. We are focusing on quality control by strictly following the ISO9001:2015 standard. We consider loyalty and customer service as the priority on business relationship. The high satisfaction from our customers has helped us explored the markets into North America, Europe, Australia, Japan, Mid-East, etc.
Company Video
Certifications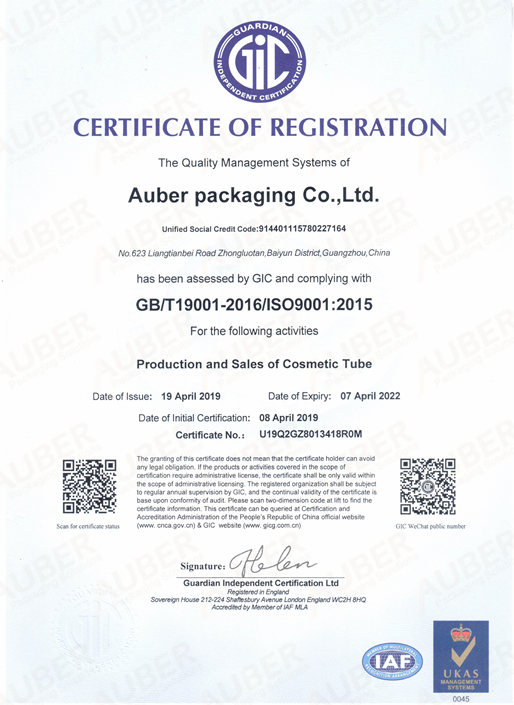 Auber ISO 9001 2015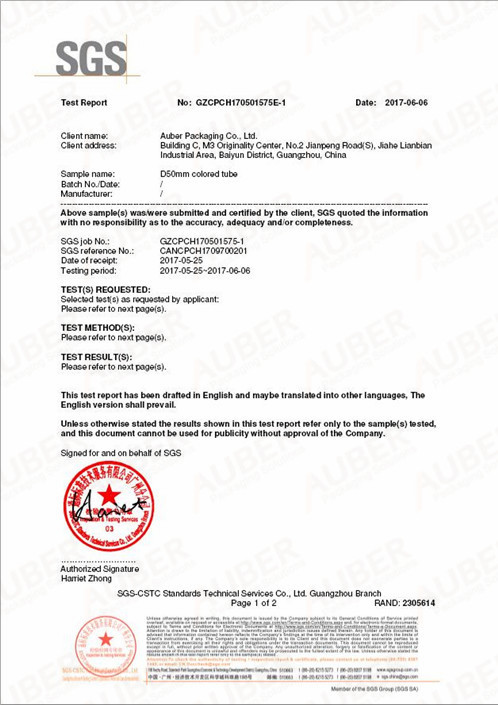 American PCH testing report No. GZCPCH170501575E-1 Ni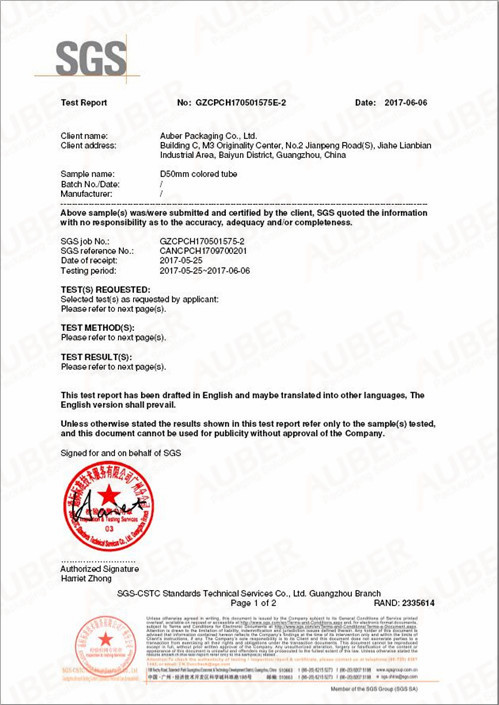 American PCH testing report No. GZCPCH170501575E-2 Hg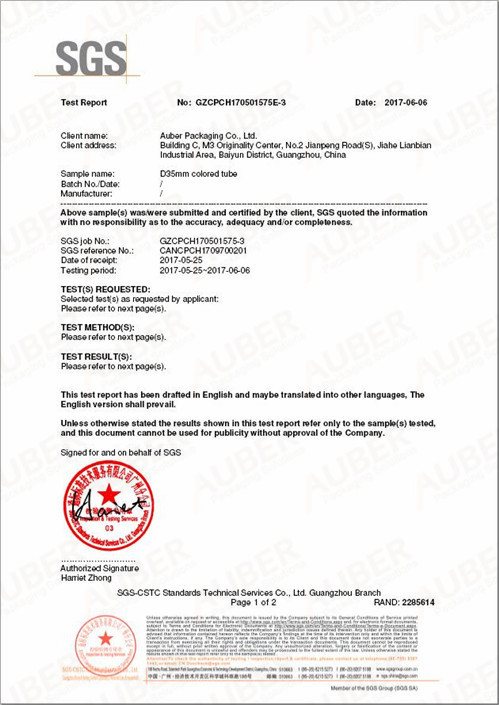 American PCH testing report No. GZCPCH170501575E-3 Cr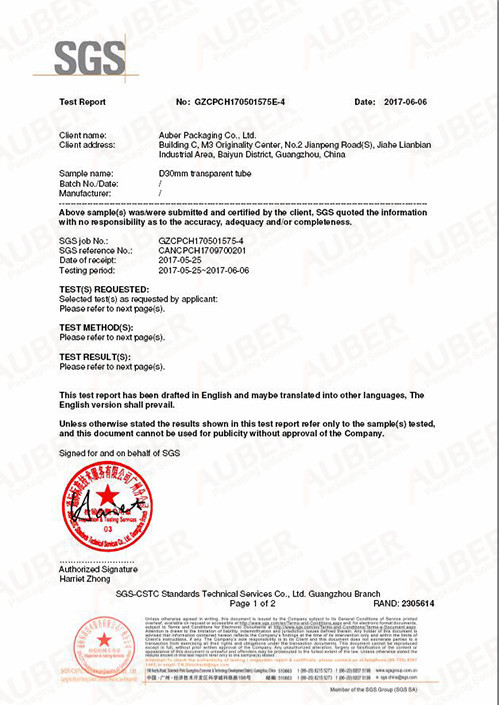 American PCH testing report No. GZCPCH170501575E-4 Pb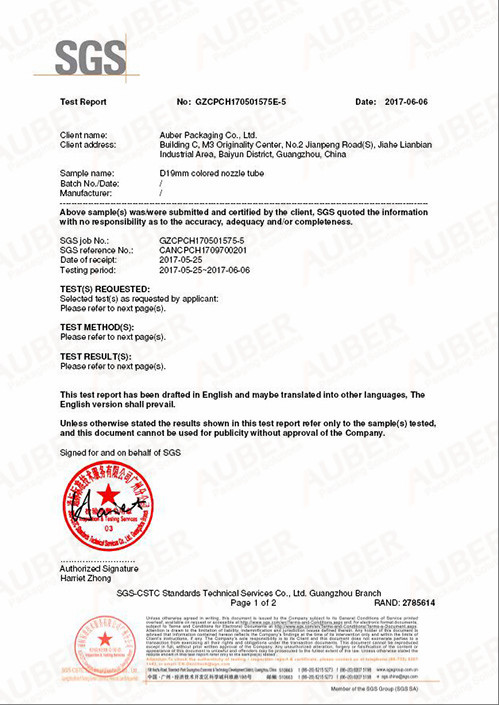 American PCH testing report No. GZCPCH170501575E-5 Bisphenol A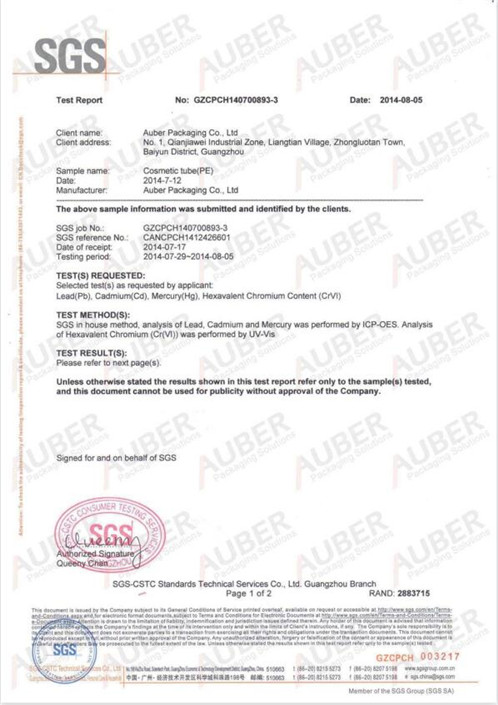 American TPCH testing report No. GZCPCH140700893-3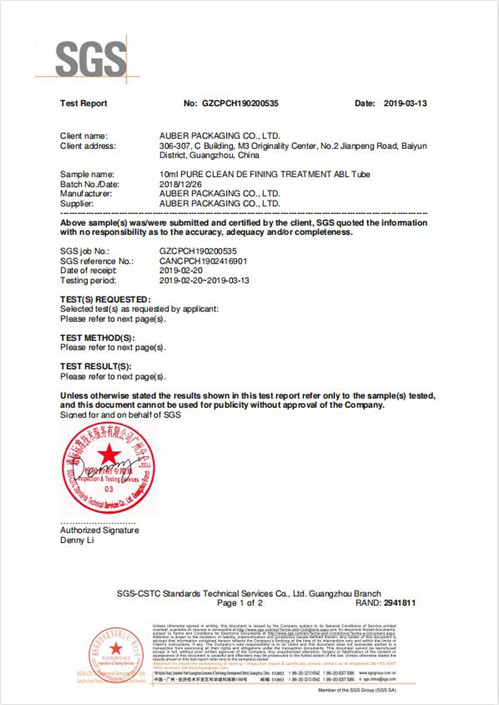 Commission Regulation(EU) No.10-2011 GZCPCH190200535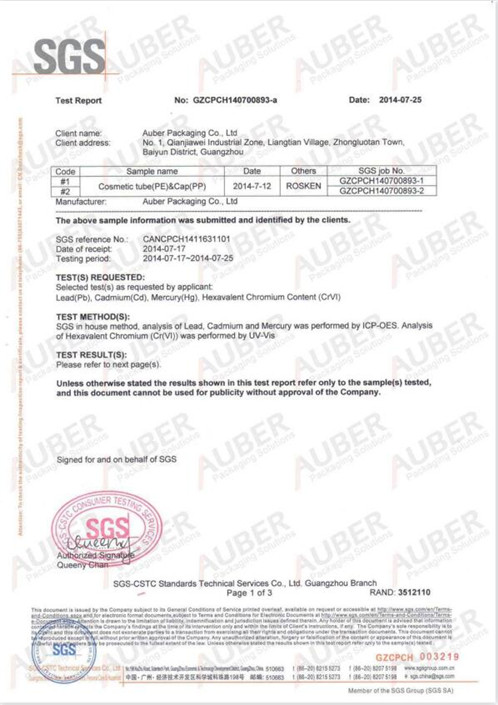 94-62-EC testing report No.GZCPCH140700893-a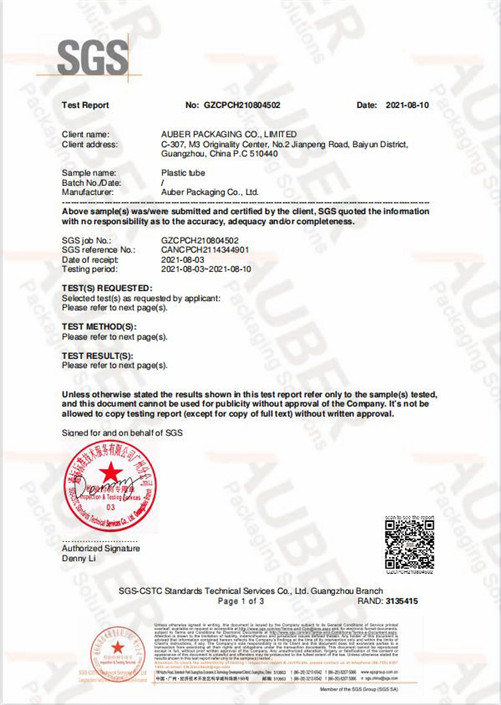 FDA SGS report GZCPCH210804502
Add a comment
Comment
MESSAGE US
Start to customize the cosmetic tube packaging
Copyright © 2021 Auber Packaging Co., Ltd. - All Rights Reserved.
Choose a different language
English
Ελληνικά
Türkçe
ภาษาไทย
svenska
Polski
Nederlands
עִברִית
Magyar
Gaeilgenah
dansk
čeština
русский
Português
한국어
日本語
italiano
français
Español
Deutsch
العربية
Українська
Bahasa Melayu
Lëtzebuergesch
Қазақ Тілі
Беларуская
Current language:English